Get matched with
perfectly fitting jobs
Set your preferences and we'll notify you about
every matching job opportunity.
Join the network of 30 000 tech
professionals that is always updated
with
matched

career opportunities

If you have at least two years of experience in tech or technology
degree, we are happy to accept you at inhire.
Only quality
matches
Set your matching preferences:
salary, location, tech stack,
and experience.
Fitted
frequency
Set your preferred notfication
frequency: daily, weekly,
monthly or null.
Personal
support
We have a team of
Talent Advocates ready
to support you if needed.
How it
works
Browse, apply or manage applications in one place.
Browse
Anonymously browse
jobs at inhire.
Apply
Apply with 1 click if
interested. No CV required.
Manage
Easily manage all of your
applications in one place.
More than 30 000 users
already use inhire!
I quickly filled out the profile, and the offers began to appear. The whole process was well-designed, the acceptance of offers was also clear and simple. Actually each accepted offer ended up with a conversation with a given company.
Cyber Security Analyst
I decided to give inhire a try despite not actively looking for a job. I created a profile and within a week I got a couple of offers, most of which were well-fitted for my profile. One of them - from Cosmose.co - particularly caught my attention, so I decided to apply. I went through the recruitment process and I was hired.
Senior Java Developer
Only active jobs from the most

innovative

employers

Check out some of the current job openings on inhire below.
We support you during
recruitment processes
If you need additional support, you can count on our Talent Advocate who will:
Help you filter jobs
opportunities.
Verify the status of your
applications with
employers.
Send you new
matching jobs as soon
as they appear.
Manage all your
applications in
one

place

All the jobs that you accept are visible in your panel, so you know at which stage of recruitment you are, and you can always count on feedback. You receive notifications from employers about any change in the status of your application.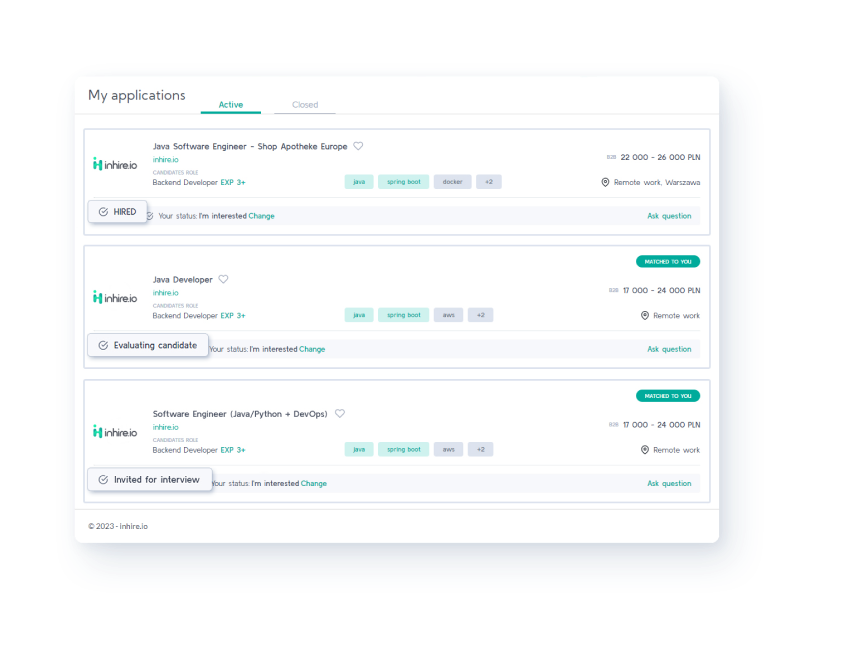 Salary
calculator
We update data on a daily basis so that you can always know your worth.