"We wouldn't be able to build such a broad talent pool with internal efforts." Discover the story of Transition Technologies-Software, where inhire.io serves as the second source of recruitment, contributing to 24% of their hires. In this case study, you will learn why our Customer Success Managers are highly valued, what inhire service acts as a part-time recruiter, and which Employer Profile feature is particularly helpful for our client.
We had the pleasure of talking to Diana Wołek, the Coordinator of Recruitment Communication and Marketing at Transition Technologies-Software. During our conversation, we looked into how Transition Technologies-Software uses inhire.io for their recruitment efforts and discussed the advantages of the Employer Profile from our client's perspective.
Check it out!
Inhire.io: What recruitment methods have you used so far, and with what results?
We often rely on pracuj.pl because that's where our main audience is. And this solution actually works best for us. We also invest a lot of time in Direct Search (14% of hires). While it was our second top source last year, it has now shifted to third place, giving way to the Employer Profile on inhire.io (24% of hires).
Along with that, we also make use of LinkedIn job ads. However, it is our career tab that has recently gained a lot of popularity. We've noticed the same with spontaneous applications to our recruitment email and LinkedIn messages to our recruiters.
Why did you decide to work with inhire?
Our experiences with IT job boards have been various. So far, we've tried out the four most popular ones in the market, but only inhire.io, along with one other platform, proved to be truly effective, with inhire having the advantage. Since a considerable number of job boards didn't meet our expectations, I was skeptical about trying out such solutions. Back in 2021, when I first heard about inhire.io, I wasn't necessarily eager to invest time in something new and untested.
However, I wouldn't forgive myself if the opportunity for a good source of applications slipped through my fingers. So, I sought opinions from several places and scheduled a non-binding call with an inhire.io advisor. What convinced me was the large candidate database and tailored job ads sent to them via email.
I've realized that direct contact with such a large number of potential candidates could actually work. As a company, we wouldn't be able to build such a broad talent pool with internal efforts. After some time, it turned out that the candidates were mostly well-matched, the Customer Success team was excellent and very engaged in our processes, and the users were genuinely active.
How does inhire.io respond to your recruitment needs then?
In a nutshell, inhire.io offers comprehensive and effective solutions. What does that mean?
First of all, we have the ability to search candidates beyond our databases by using inhire's extensive network of contacts.
Secondly, the Employer Profile offered by inhire.io proved to be a cost-effective and attractive solution, contributing to 24% of our hires in 2023.
Moreover, inhire's recruiters are highly engaged in our processes and provide assistance at every stage of recruitment.
Finally, when we used Matching, we could also benefit from additional Direct Search conducted by inhire's recruiters (ed. note: check the mentioned services in the inhire.io pricing). It was like having an additional part-time recruiter supporting us when resources were limited.
Are there any features or tools that particularly facilitate your recruitment process?
One of such features is the convenience of posting clear job ads and the option to inform matched candidates whether their salary expectations align with ours (ed. note: when the offer matches the salary range declared by the candidate in their profile, they receive a message "meets your expectations" alongside the job posting).
Although I'm a strong advocate for salary transparency and always provide salary ranges to candidates whenever possible, there are instances where we have limitations on certain projects. As a result, we can't disclose salary details to a wider audience.
That's why the option offered by inhire.io is an excellent compromise, allowing us to strike a balance between the company's needs and providing transparency to candidates.
Another useful thing is the ability to add profiles of recruiters and people working with us in the Employer Profile. This allows us to show our true face and what kind of company we are.
What percentage of candidates from inhire.io met your expectations?
We check the percentage of suitable candidates, but we don't break it down by sources, so it's difficult for me to provide a detailed answer to that question. However, I can say that candidates coming through inhire.io are usually experienced individuals with a minimum of two years of commercial experience. Mismatches are rare in such cases.
Can you provide an approximate percentage of employees who were hired through inhire?
24% of all our hires in 2023.
How quickly did the first applications start coming in after partnering with inhire? And how quickly were you able to close the recruitment processes?
The first applications usually come in shortly after posting the job ad. For more challenging and unconventional recruitments, the waiting time may be longer. These are processes where even securing two candidates in a month is a significant success. So, we can't expect candidates to apply on the very first day.
According to statistics, the time from application submission to the technical qualifying interview is a maximum of 14 days. After the interview, there is just a mutual decision left. We aim to close the processes within a month, which is entirely feasible for standard recruitments.
---
Do you know that…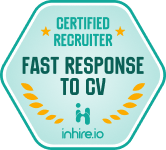 Diana Wołek has received the inhire.io Quality Certificate in Q2 2023 for her fast response time to CVs?
This means that if you apply through inhire.io for the recruitment processes she manages, you'll receive a response to your CV within 3 days.
Learn more about our certificates for recruiters – here.
---
What would you say to someone considering using this platform's services? Why is it worth hiring through inhire.io?
You can expect real results and great support. Inhire.io keeps improving and has a growing talent pool (currently over 26,000 experienced IT specialists – check it out!). So, using a platform that consistently delivers better outcomes is definitely worth it.